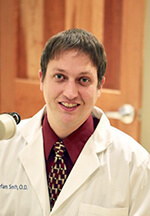 Dr. Stefan Smith completed his undergraduate degree in biology at Illinois State University in 2004. He graduated cum laude from Illinois College of Optometry with a doctor of optometry degree in 2008.
He completed internships at the James H. Quillen VA medical center in Mountain Home, Tennessee and the Hunter Holmes McGuire VA medical center in Richmond, Virginia.
He practices full scope optometric care, with a special interest in dry eye syndrome and pre/post-operative surgical care.
Dr. Smith was born and raised in southern Illinois. He enjoys spending time hiking, biking, and camping. He is a runner, and has competed in races ranging from 5k to marathons. He is excited about his move to the Rockies.