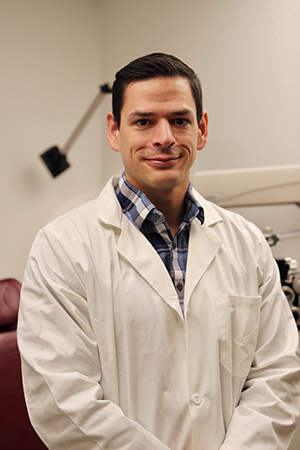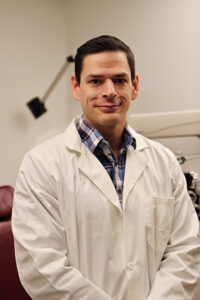 Dr. Jedediah Reece was raised in a small town in Haven, Kansas, and completed his undergraduate degree in biology at Wichita State University, where he graduated Magna Cum Laude. Jed completed his doctorate degree at the Northeastern State University Oklahoma College of Optometry, where again he graduated with honors and was a member of the Beta Sigma Kappa International Honor Society.
Dr. Reece volunteered for humanitarian missions, which included two trips to Roatan, Honduras, to provide free eye exams and glasses to the community.
The optometry school provided eye exams to the wonderful people of the Cherokee Nation in Oklahoma. This provided him the opportunity to experience chronic disease management, such as glaucoma, diabetic retinopathy, macular degeneration, etc, as well as acute ocular emergencies. The school also had a great contact lens rotation, providing many opportunities to experience new contact lens technology.
Dr. Reece is accepting new patients at both office locations. He works with all ages, and will provide primary care, contact lens fitting, pre- and post-surgical needs for Dr. Ehrlich, and manage both acute medical eye problems, and chronic eye diseases
He comes to the valley with his wife, 2 young kids, and 2 dogs, and enjoys hiking, camping, fishing, and the wildlife that Colorado has to offer. Make an appointment with him today!